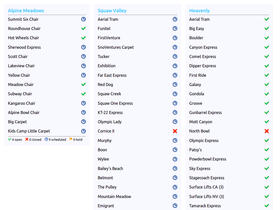 Liftie monitors lift status of selected ski resorts and automatically refreshes the display upon change. It remembers which resorts a user is interested in and supports customized lists of favorite ski resorts.
In addition to displaying lift status Liftie shows quick links to discount lift tickets.
Liftie provides a clean focused interface, automatic updates obviating the need to hit browser Refresh button periodically, and - differently from specific resort web sites - lets users check lift status of multiple resorts on a single page.
Liftie is an Express application running on node.js. The client side is put together with help of browserify.